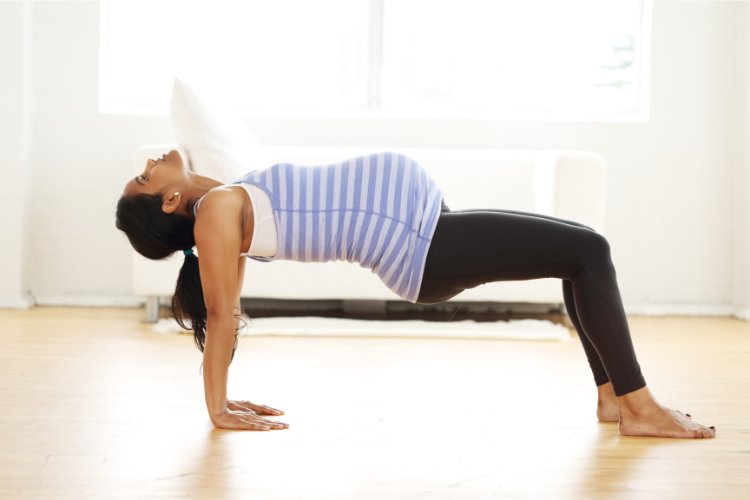 Do you want to learn how to safely teach pre and postnatal yoga students? Or maybe you're interested in learning more for yourself? Our 25-hr comprehensive pre and postnatal yoga teacher training may be for you. This training will take place over two weekends from January 21 to 28, 2023 where we dive deeper into understanding the evolution of the body during pregnancy. This program will prepare you to confidently teach pregnant and postpartum people yoga and provide support to those in all stages of the birth experience.
The 12.5-hr prenatal portion will allow you to lead a full prenatal class with a childbirth education component and will also teach you how to incorporate pregnant folks who may attend your regular yoga classes. The prenatal portion of the training will be taught by Danielle Denwood, Certified Professional Midwife and Senior Prenatal Yoga Instructor.
The 12.5-hour postpartum portion will enrich your understanding of the natural recovery of the postnatal body and how asana and pranayama can support the physical and emotional transformation into parenthood. The postnatal portion of the training is taught by Osteopath and movement teacher Florence Bowen.
Both sections will have a balanced mix of theory and practical exercises to provide you with the knowledge and tools to be able to support both pregnant and postpartum people safely and confidently. Although prior yoga teacher training is not a prerequisite, it is beneficial to have some yoga experience.
This training will cover:
A thorough understanding of the changes that occur in pregnancy
Prenatal childbirth education and the stages of labour
Class sequencing and designing an effective yoga class whether you are looking to teach series classes, workshops or drops-ins
Teaching practice time to build confidence and explore your teaching style
Pranayama and breathing techniques during the pregnancy journey
Contraindications, modifications and adjustments for pre and postnatal
Discover the common conditions that often accompany the postpartum period
Develop a rich appreciation of the anatomy of the pelvis, the pelvic floor muscles and deep core
Deepen your understanding of cues for the mula bandha (pelvic floor) and how to make them applicable to the rehabilitation of the postpartum body
Learn safe and effective sequencing and asana modifications tailored to the postpartum body
DATES:
Friday, January 20 @ 6:30-9pm: Intro to both pre & postnatal
Saturday, January 21 @ 10am-3:30pm: Prenatal
Sunday, January 22 @ 10am-3:30pm: Prenatal
Friday, January 27 @ 6:30-9pm: Q&A for pre & postnatal
Saturday, January 28 @ 10am-3:30pm: Postnatal
Sunday, January 29 @ 10am-3:30pm: Postnatal
Pricing/Payment: $450.00 + HST for the full course
15% discount available to previous yoga teacher trainees of our studio, please email us to redeem.

Compassionate Pricing also available, please email us at [email protected] to enquire.